Basic Farmer's Cheese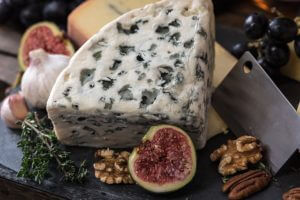 1 gallon whole milk
1 pint half and half

1 cup white vinegar

1/2 tablespoon coarse kosher salt
 *Other ingredients which can be added to
the cheese: chopped sun-dried tomatoes, chopped garlic, chopped fresh basil, roasted red peppers, spicy peppers
 Heat the milk and half and half in a stainless steel stock pot over medium heat. Stir frequently and warm the mixture until it starts to foam and it reaches 195 degrees. Remove from heat and slowly stir in vinegar. You should see the curds form and separate from the whey. Line a colander with cheesecloth. Place the colander over the sink and drain the curds into the colander. When most of the whey has been drained, stir in the salt. At this point, you may add other ingredients*. Place the cheese, lined with cheesecloth, in a cheese press. Weight the press and let rest 1 hour. Remove the cheese from the cheesecloth, place in plastic wrap and refrigerate overnight. When time to serve, unwrap the cheese, brush with olive oil and serve with bread or crackers. Note: If you don't have a cheese press, check online for alternative ideas (putting a brick on top of a plastic lid, etc.)
Yogurt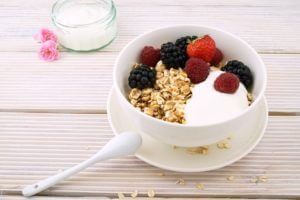 Milk
Yogurt (for culture)
Here's my recipe for making yogurt with one gallon of milk.
You can adjust it if you're working with less milk.
 Heat gallon of milk on stove top to 110 degrees. Take pot off heat. Stir 1/4 cup of the existing yogurt into a cup of the warmed milk till well mixed. (really well mixed) Add to big pot of warmed milk. Stir well. Put pot in warm place (95 degrees) for about 12 hours. (If your pot is small enough, you can put it in the stove with no heat – just the oven light on for heat. Or some people put a heating pad beneath the pot and set on low.) After the 12 hours, put yogurt in fridge till it gets nice and cold. This next step is what makes our yogurt extra thick and creamy like Greek yogurt. Since we don't like runny yogurt, I strain it through a cheesecloth-lined colander for several hours or even a day (in the fridge) till it gets thicker like we like it. Then I whisk it in my Kitchen Aid til it gets creamy and smooth. If you'll be adding honey, sugar, or fruit, you can add it while whisking. The whey that drains off the yogurt is nutritious and perfect for soaking beans or even watering your garden.
Sausage Corn Chowder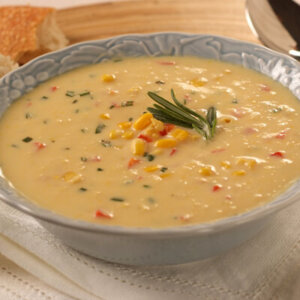 1 pound Avery's Branch bulk hot or mild sausage

1 cup diced onions

1 cup diced red bell peppers

2 tablespoons all-purpose flour

4 cups milk

4 cups sweet corn

1/4 teaspoon garlic powder salt and pepper to taste

3 teaspoons sliced green scallions (optional)
Over medium-high heat, brown and crumble sausage in soup pot. While sausage begins to brown, add onions and red peppers, cook until tender and sausage is no longer pink. Drain. Add flour, stir well into mixture and cook 5-6 minutes. Add milk and combine with sausage mixture. Add corn and simmer for 20-25 minutes until base thickens. Add garlic powder, salt and pepper. Garnish with scallions on top in soup bowl. Refrigerate leftovers.
Alfredo Sauce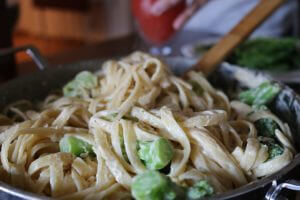 1/2 cup butter

1 (8 ounce) package cream cheese

2 teaspoons garlic powder

2 cups milk

6 ounces grated Parmesan cheese

1/8 teaspoon ground black pepper
Melt butter in a medium, non-stick saucepan over medium heat. Add cream cheese and garlic powder, stirring with wire whisk until smooth. Add milk, a little at a time, whisking to smooth out lumps. Stir in Parmesan and pepper. Remove from heat when sauce reaches desired consistency. Sauce will thicken rapidly, thin with milk if cooked too long. Toss with hot pasta to serve.
Oliver's Raw Milk Ice Cream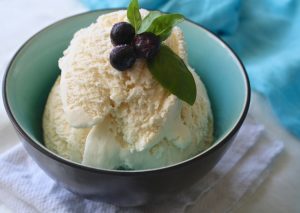 3 cups cream

3 cups milk

6 eggs

1 1/2 cup sugar

1 tbs real vanilla

1/2 tsp guar gum (Can be purchased at Good Foods Grocery in Richmond or most health supplement stores.)
Stir together the sugar and guar gum. Beat eggs and sugar/guar gum mixture till light and fluffy. Add vanilla, cream, and milk. Whisk until mixed. Churn in ice cream machine. Makes 3 quarts. For the serious ice cream lover, we recommend the Musso Lussino Stainless Steel Dessert Maker.
Swedish Ginger Cookies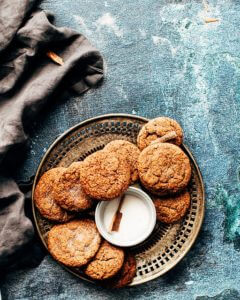 3/4 cup bacon fat

1 cup sugar, plus more for rolling

4 tblsp dark molasses

1 large egg

2 cups all purpose flour

1/4 tsp salt

2 tsp baking soda

1 tsp ground ginger

1 tsp ground cloves

1 tsp cinnamon
The secret to these ginger cookies is the bacon fat, which gives them a smoky flavor that complements the spicy bite of ginger, cloves, and cinnamon.
Heat oven to 350 degrees. In the bowl of an electric mixer, cream together bacon fat and sugar. Beat in molasses and egg. Add the remaining ingredients; combine thoroughly. Shape dough into walnut-size balls, roll balls in sugar, and flatten with fingers on ungreased baking sheets. Bake for 10 to 12 minutes, or until cookies are golden brown and cracked on top. Let cool on wire racks. Store in airtight container, up to 1 week. Makes 3 dozen. (I can't imagine these cookies still being around in 1 week – they're really delicious!)
Zuppa Toscana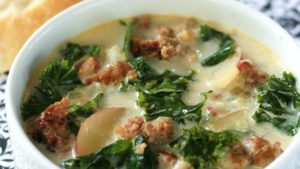 3 pounds Sausage (cooked and drained)

8 Potatoes (peeled and cut in ¼ '' pieces)

3-4 Onions (chopped)

10 tablespoons Bacon bits

2 tablespoons minced garlic

8 cups Kale (chopped)

Chicken Stock (just enough to cover and boil potatoes)

1 gallon Milk
 Fry sausage and drain. Fry: onions, bacon bits, and garlic, then boil
potatoes in stock and add sausage, onion, and bacon to potatoes. Add
milk, heat- DON'T BOIL, add kale. Enjoy!
Baked Potato Soup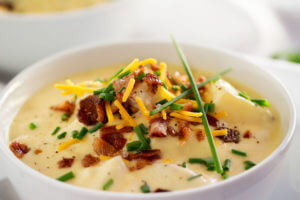 12 sliced bacon

2/3 cup butter

2/3 cup all-purpose flour

7 cups milk

4 large baked potatoes, peeled and cubed

4 green onions, chopped

1 1/4 cups shredded Cheddar cheese

1 cup sour cream

1 teaspoon salt

1 teaspoon pepper
Place bacon in a large, deep skillet. Cook over medium heat until browned. Drain, crumble, and set aside. In a stock pot or Dutch oven, melt the butter over medium heat. Whisk in flour until smooth. Gradually stir in milk, whisking constantly until thickened. Stir in potatoes and onions. Heat thoroughly. Reduce heat and simmer 10 minutes. Mix in bacon, cheese, sour cream, salt, and pepper. Continue cooking, stirring frequently, until cheese is melted.